imoe> today
In 2017, we have expanded our passion into our main field of activity. We support our customers in the successful implementation of their online projects.
We also create and operate our own online projects, which we would like to introduce to you on our project page.
We continue to offer our imoe> information services, (imoe.de), because we will not let our good customers of many years down of course.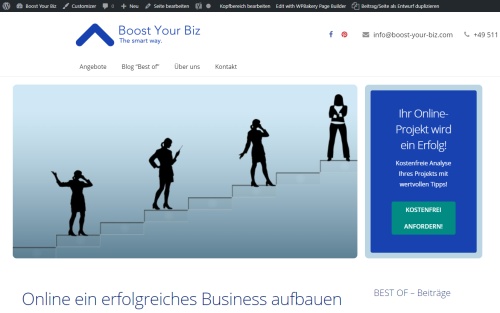 Relaunch and new headquarter
In 2013, there were some changes. The company headquarter was relocated from Hemmingen to the beautiful Langenhagen near Hannover. Thanks to the nearby airport, we are now even more connected to all our national and international customers and partners.
Our website also got a relaunch, our central research offerings are now more clearly communicated, so to say, restriction to the essentials. Of course, our main projects, such as our company database with Bulgarian companies or our web catalog, are nevertheless prominently linked.
More and more of our website customers recommend us, so that we build and maintain many business websites in addition to the information business.
New database project online
In 2010 it was time: our company database Bulgaria was launched.
Since the beginning of 2000 we offer highly qualified credit information about Bulgarian and other Eastern European companies. For Bulgaria we offer this service since 2010 under own branding also online, as well as marketing lists and individual company searches.
We now also offer our experience with online database projects to external customers.
Info database Eastern Europe launched
After more than a year of development, the most comprehensive information database with online business information on Central and Eastern Europe / CIS got launched. Customers can search for qualified information in the database, under favorable conditions (by online payment subscribed), thereby saving costs of individual research. The database contains information that is not or not very easy to find on Google.
The database is also published by renowned economic database providers such as Lexis Nexis or GBI Genios.
As early as 2007, imoe> launched an extensive affiliate program. That was at a time when many did not know yet what the term affiliate means. Today, this term is a matter of course for online marketers.
The online database has been optimized for Google on its own. We've learned a lot here about what it means to be punished by Duplicate Content from Google. As part of our database, we provided an Eastern Europe Guide free of charge on a separate domain. This content counted as a double and flopped. Since then, we know how important it is to follow all Google Guidelines.
Since then, we have also passed on this experience and our know-how with online databases and online marketing to external customers.
imoe> changes legal form to Ltd.
imoe> has been operating as a limited liability company since 2005 under the sole management of Nicola Stobbe. The reason for the change of legal form is, in particular, the planning of a new, innovative information database. Here customers shall be able to search themselves for qualified and verified business information on Eastern European countries.
At the same time, imoe> publishes online a database with country contacts in cooperation with the fibre publishing house. The online service complements the eponymous book series of the publisher.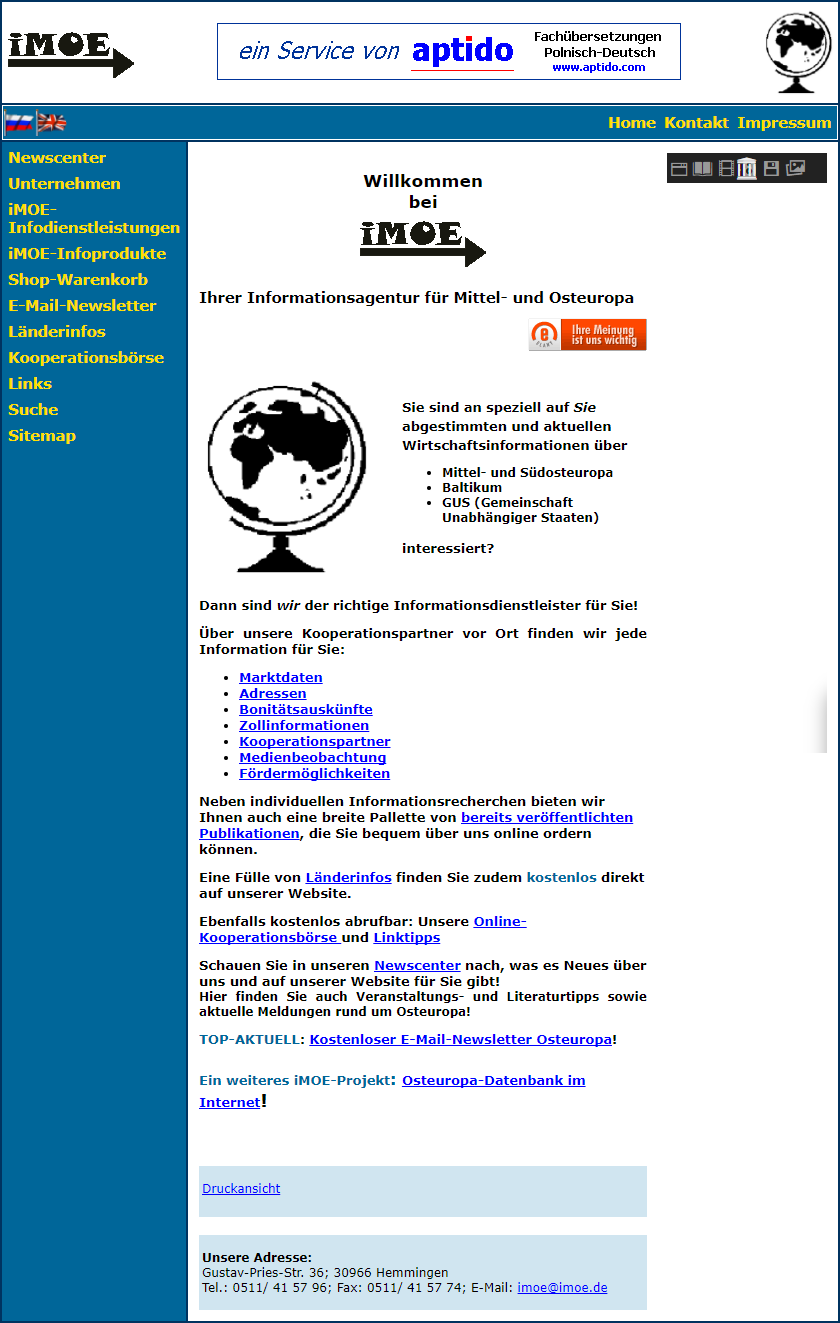 imoe> is founded
1998 is the birth of imoe>. In the form of a partnership, Nicola Stobbe and Andrea Üllenberg want to help companies to operate a successful business in Central and Eastern Europe. Individual questions and research solutions are in the foreground.
Long before many large corporations, the imoe website went online, completely self-built and operated by the founders. Good Google rankings quickly attracted the attention of new customers.